Testimonial
'Joel was a gift to my husband and I during a very dark time and painful crisis. Despite using zoom technology in the height of a pandemic, Joel's experience, knowledge and intuition was able to permeate the boundaries of the virtual world and time zones. (We live in Ontario). The inner work continues. I am eternally grateful'
Cheryl K

Upcoming Seminars
Healing The Original Pain Of Your Life: The Inner Child Seminar
Vancouver: February 17/18, 2024
Relationships: The Work of Love
Vancouver: November 25/26, 2023
Down the Rabbit Hole: A One Year Program in Deep Emotional Healing

Vancouver: early 2024
Welcome
Joel Brass believes that all human beings deep within are looking for the same thing – inner peace and the experience of being loved and loving, safe and fulfilled. He has passionately dedicated himself to the exploration and healing of the barriers, issues and wounds we often unknowingly bring to our relationships with others and to what we feel towards and how we see ourselves that prevent our lives from being all they could be.
The focus of Joel's work is private therapy, where he works with individuals, couples, and families who are seeking to experience greater love and peace in their daily lives. If you're looking to make genuine changes in how you relate to yourself and the world, contact Joel by phone or email.
Joel also hosts two day introductory seminars and intensive, year long programs out of which participants can test and implement their emotional healing work in their daily lives. He has also written a book on the work he has founded.
Seminar Updates
See the sidebar for dates of the next weekend seminars.
Joel will host a new One Year Programs in 2024:
New!
New for 2024
:
Down the Rabbit Hole: A One Year Program in Deep Emotional Healing
starting early 2024
Book Updates
Joel's book, Healing Your Relationship With Yourself, is now available in electronic format.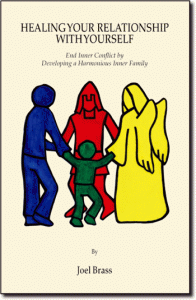 You can listen to Joel share excerpts from his book, and the journey of loving another with all of your heart, mind, body and soul. Visit the free talks page to hear a live audio recording.
About Joel
Joel Brass (M.A.Sc., R.C.C.) has been a successful individual, relationship and family therapist in Vancouver, BC for the last 38 years. Over the past 30 years, Joel has developed a model, a disciplined practice, seminars, programs and follow-up support systems for individuals not just seeking relief but permanent and lasting changes in their lives.
In addition to his private practice, seminars, and writing, Joel has been a keynote speaker, and hosted call-in radio shows for many years, his most recent program entitled "Love Matters" on CFUN 1410 AM (Vancouver).
However, it is far away from these accomplishments where Joel experiences his greatest fulfillment, meaning, and love. It is his wife, Marim, and their two sons, Adam and Simon, who love him "just for me, especially the me I am too afraid to show to everyone else. This makes my wife and sons my greatest teachers of love, and I am forever grateful that I get to live with them on a daily basis."
Contact Information
For an appointment in Joel's private practice, please call the office of your choice:
Vancouver office address:
Joel Brass & Associates Ltd.
for Vancouver: call 604-732-9091
South Surrey office address:
Joel Brass & Associates Ltd.
1521 161B Street
South Surrey, BC Canada V4A 9W3
604-535-4220
Or to contact Joel via e-mail: info@joelbrass.com